NightLase®
Non-surgical Airway Enhancement & Anti-Snoring Treatment
Snoring Treatment utilizing Nightlase is a proven effective treatment for snoring that can help sleep apnea issues as well! Fotona's NightLase® therapy is a non-invasive, laser treatment for increasing the quality of a patient's sleep.
NightLase reduces the effects of sleep apnea and decreases the amplitude of snoring by means of a gentle, laser-induced tightening effect caused by the contraction of collagen in the oral mucosa tissue. It' relatively painless and fast.
We all know dangerous obstructive sleep apnea can be and how challenging nightly snoring can be.
Many people have their family doctor prescribe a CPAP device. However many people find the CPAP "mask" device difficult to use. Others have mild enough sleep apnea or snoring that they really don't need a CPAP mask.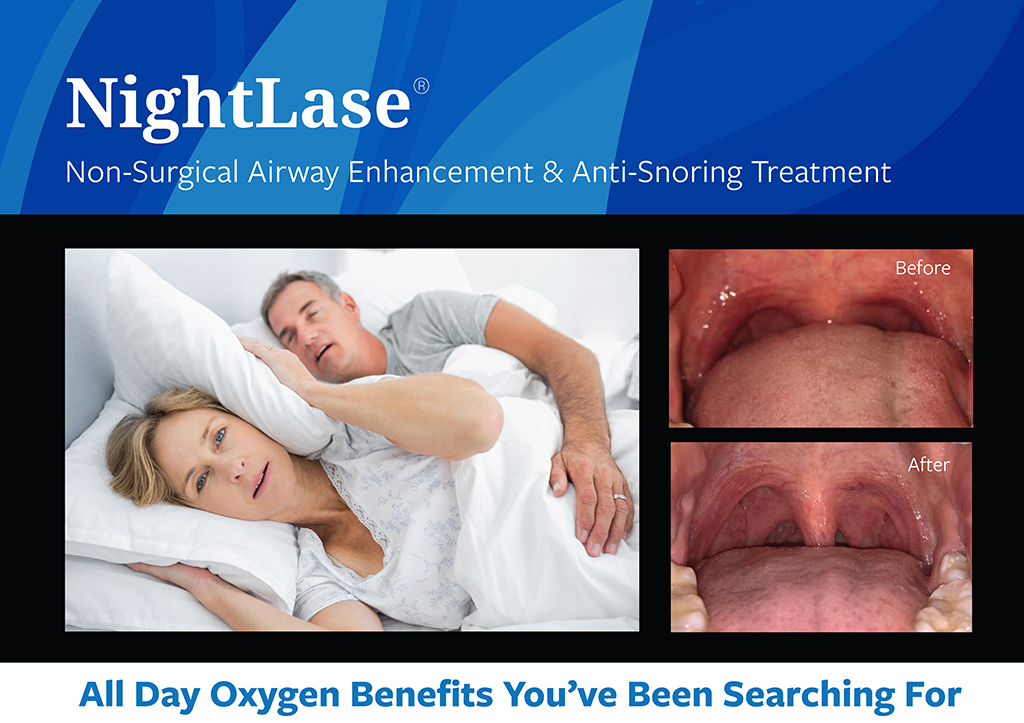 ProSomnus Sleep Devices may be a solution!
For patients who find their CPAP miserable to wear, inconvenient when traveling, or useless when there is no power (during thunderstoms, hurricanes, or when camping), an oral sleep device can be a lifesaver.
ProSomnus Sleep Devices can help you get the rest – and the oxygen – your body needs. Plus, the precision manufactured devices are incredibly strong, while also offering a profile so slim and comfortable, you may forget you are wearing it.
• Breathe easy without a mask
• Slip it on effortlessly every night
• Easy for you to adjust without repeated trips to the doctor's office
• Stain resistant
• Biocompatible material so it doesn't harbor germs
Braebon Home Sleep Tests
Now you can have a sleep test from the comfort of your own home! As part of your potential treatment for sleep apnea and/or snoring issues, Jax Beaches Family Dentistry employs Braebon sleep monitoring technology that can be utilized from the comfort of your bedroom.
This the same Company that equips leading teaching hospitals and sleep centers with the latest sleep and cardiac monitoring technologies. Braebon sleep monitoring products are easy-to-use and amazingly accurate. When you visit with us to discuss your sleep apnea and snoring issues, we will discuss monitoring options in greater detail.
• Braebon sleep apnea and sleep monitoring could allow you to remain home instead of going to an overnight sleep center or to the hospital
• Braebon in-home dental monitoring technology is the world's best and its available at Jax Beaches Family Dentistry.
---
---